Year 6
Summer 2
Over the past few weeks, we have been raising money for Mary's Meals. This is a charity that aims to support communities in the underdeveloped world to build the skills and the resources they need to improve their own lives.
Our challenge was to recycle 100 items per student. Once the children had collected their 100 items to recycle, they took a photo and sent it to their class teacher. Friends and family sponsored the children to do this challenge. Here are a few photos of what we were able to recycle ...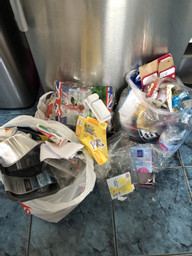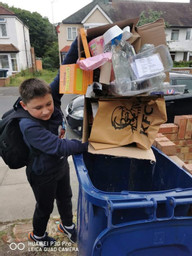 On Friday 25th June, Year 6 took part in an Olympic themed dance workshop which allowed the children to celebrate sports and unity. During the workshop, the children worked alongside a West End choreographer to reimagine their own version of the Olympic Games. Working together as a class, they celebrated Japanese culture by creating their own version of the opening ceremony, exploring the different types of sports, and embracing the official Olympic values of excellence, respect and friendship. See our gallery for pictures of the event.
Summer 1
In English, we have been reading a set of stories about a Greek storyteller named Atticus who travelled around Ancient Greece. We in turn have become storytellers ourselves! After adapting a version of a Greek myth for a Year 1 class, we performed our stories to them. The Year 1's became familiar with this story, learned new vocabulary and some even learned the story off my heart.
6P assembly- Witnesses
This term Year 6 have been learning about what it means to be a witness. We discussed examples from the Bible of when there have been witnesses of Jesus' miracles, his suffering and even his resurrection. We even spoke about examples of modern day witnesses of God. For example, Paschal Uche. Who from a very young age, showed his faith and dedication to God.
We hope you enjoy watching our assembly.
Spring 2
World Book Day
On Thursday 4th March 2021 we celebrated World Book Day both in school and remotely. Please see the gallery for pictures of our day.
Class Novel
We recently finished our class novel 'Holes' by Louis Sachar. The children adored this book with many saying it was their favourite book they had ever read. The book contains a range of themes including justice, crime and punishment and friendship. If you haven't read it yet yourself- we definitely recommend you do!
Spring 1
Year 6 have been studying the SS Windrush and this week we were able to take part in a virtual Q & A session with a passenger that sailed on the ship in the 1940's. Alice, now 82, arrived from Jamaica as a young girl and had dreams and aspirations of starting a new life in London. She spoke of the struggles she endured, prejudices faced and the life she led after settling in Shepherds Bush. A huge thank you to Alice for taking part and answering our questions. A great insight for us all.
Autumn 2
Comparing life during WW2 in Poland and England
Year 6 were lucky to have the opportunity to ask questions to Mrs Romanowska about life in Poland during WW2. We were able to compare life in Britain to that of Nazi occupied Poland. We found many differences but many similarities too.
Workshops:
RAF Hendon:
As we were unable to attend RAF Hendon this year in person, Year 6 were luckily still able to virtually travel back to 1940. During our recent workshop, the children explored what life was like on the Home Front and met an Air Raid Warden who encourages them to stay safe during blackouts, gas attacks and air raids
MyBnk:
MyBnk virtually visited Year 6 to carry out a MyMoney workshop on how to set positive money habits and mindsets from an early age. The children experienced unique and engaging activities which taught them to become informed consumers, savvy savers and mindful spenders.
In class, we have been studying Anne Frank's diary – a diary of a young Jewish girl living in hiding from the Nazi's during WWII. It is a deeply moving and unforgettable portrait of an ordinary and yet an extraordinary teenage girl. In class, we created news reports which informed the world of the discovery of this diary and its contents. Please see the gallery for images of this thoroughly enjoyable lesson.
Autumn 1
Year 6 book recommendation: The Silver Sword by Ian Serraillier

The Silver Sword is a children's classic that has never gone out of print. The book tells of the travails of the Balicki family from Warsaw. Separated from his parents in World War II, Jan and his three friends travel through war torn Switzerland with only a silver sword for protection. Will he find his parents?

This week, we began reading our class novel 'War Horse'. Set in 1914, Joey, a beautiful bay-red horse with a distinctive cross on his nose, is sold to the army and thrust into the midst of World War I on the Western Front. Told from the point of view of a brave war horse, this award-winning book provides opportunities to teach historical fiction, summarising, and domain-specific vocabulary. Students will engage in activities ranging from writing from the point of view of an animal to researching the World Wars.
'I love reading this book as it takes me back in time to what life was like during the war. Not only do I understand what life was like for young soldiers but also for animals involved in the war' (Year 6 student)
In science, we have been investigating how light travels. We were able to demonstrate that it travels in straight lines. When an opaque object is placed in front of the light source, it creates a shadow- The light cannot travel through or round the object.
Welcome back Year 6!
It is great to see you back after the extended break and I can already see that you are picking up where you left off. You have returned fresh, energised and ready to take on any challenges this academic year may present. Since returning, I have been really impressed with how you have adapted to new daily routines and procedures around the school.
This term, we will be studying a variety of interesting topics:
In history we will be looking at the reasons for and counties involved in WW2
In geography, we will be looking at London during WW2
In science we will be looking at light and we will be revisiting the topic of electricity and building complex circuits
In art we will be looking at Propaganda posters from WW2
In DT we will be making electrically powered Christmas decorations