Year 3
Welcome to Year 3!
Autumn 2
Welcome back from a well deserved half term break - we have been busy scientists this week looking at the properties of rocks and testing them for their durability, permeability and density. Please see the gallery for pictures of investigations.
Our visit to the Natural History Museum 18.10.22
Year 3 had a fabulous day at the Natural History Museum learning all about Volcanoes and Earthquakes. We had a brilliant workshop where the museum staff were extremely impressed with the knowledge our children had retained about the layers of the Earth, about tectonic plates and the conditions for volcanoes and earthquakes to occur.
The children had time in the afternoon to explore some of the museum's galleries and travel up an escalator into the centre of the Earth and experience an Earthquake in the simulator based on a real quake in a shop in Japan.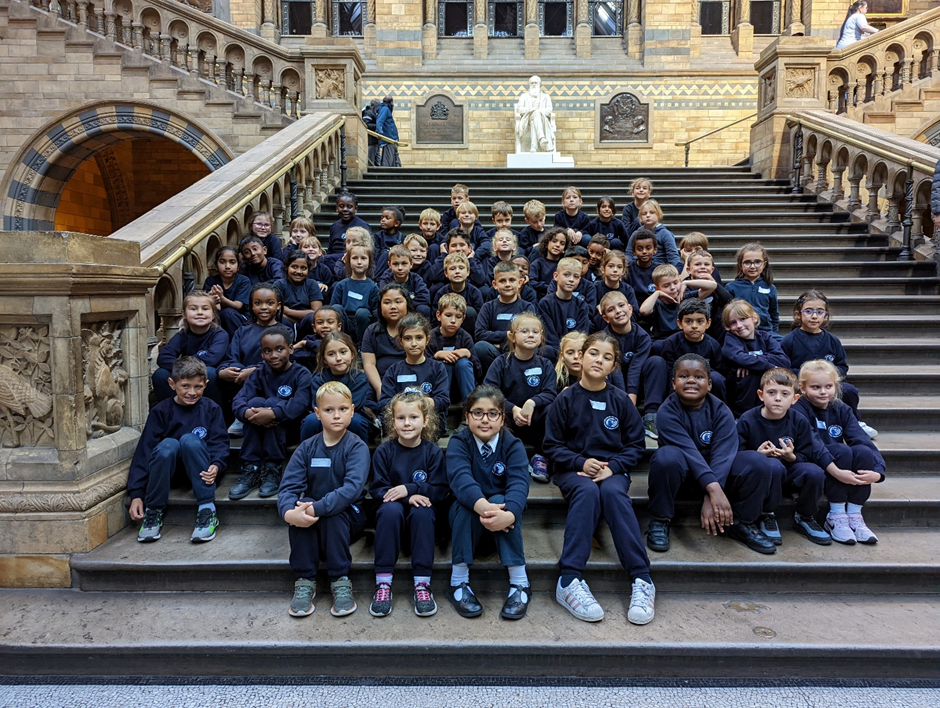 Autumn 1
We have had a great start settling into the juniors. You have all been so sensible and you make us very proud.
Do you know What makes the Earth Angry? Well now you will as we will have lots of fun learning about Volcanoes and Earthquakes. We will look at how our planet is structured and what causes these catastrophic events. Towards the end of the topic we will make model volcanoes which will 'erupt' in the Quiet Area using a vinegar and bicarbonate of soda reaction.
In English, we will soon start reading the book 'Stig of the Dump' by Clive King. In the second chapter, Barney meets Stig who lives in a rubbish dump. You will use your imaginations to create an invention using broken items which are no longer useful to people in the 21st century but really useful to a stone-age man living in a pit.
In maths we are starting to learn about the value of numbers. Don't be surprised if your children challenge you in a few weeks to them the biggest number you can think of and they'll instantly be able to tell you if it is odd or even!
Mrs Williams and Miss Hashi encourage the children to continue their fantastic start by listening to instructions, reading as much as they can and always doing their best!
September 2022
Summer 1
What a fantastic term we have had - we worked as scientists at the beginning of the term find out all about light. We looked at what light and dark are and investigated using torches and materials finding out which were transparent, translucent and opaque. We then looked at shadows and how these can be changed.
We made our First Holy Communion on 30th April - this was a really special day for us, our families, teachers and the parish. Thankfully the weather was lovely, the church looked beautiful and we all felt very honoured to be receiving the body of Christ for the first time.
We have now become Historians and are finding the answers to our Big Question - Were the Romans good for Britain? Please look at the gallery where we have uploaded photos and videos of when a Roman came to Greenford for the day and we had a fabulous all day workshop.
Spring 2
Spring has sprung! We have finished learning about the Iron Age and have began our local Geography study. Our BIG QUESTION for this half term is 'Has our playground always looked like this?'. We are lucky enough to have some amazing photographs which were taken over 70 years ago of our school and the surrounding buildings. We will be using these to compare how our school grounds have changed or not. In science, we are learning about plants - how they transport water and the function of flowers. We have linked this to our art topic, where we are study the work of Henri Matisse. We have a week dedicated to STEM careers (science, technology, engineering and maths) to include parent visitors and a walk to the local viaduct designed by Brunel. And of course, Book Week when we will celebrate everything reading and dress as our favourite book characters. Our class text for the half term is 'Spy Dog' by Andrew Cope, from which we will be developing our own mystery stories based around our own spy pets - what do they get up to when we aren't at home?
Spring 1
Happy New Year! There's lots to look forward to in 2022 in Year 3. We will finish learning about the Stone Age and will see how this feeds into the Bronze and Iron Age. Our BIG QUESTION for this half term is 'How did the discovery of metal change the way people lived?' Our English work ties in nicely with our History through our shared text, The Stolen Spear by Saviour Pirotta, which is set in the real life settlement of Skara Brae. As we learn about Wolf's journey to retrieve the stolen spear, we will discover the features of the myths and legends genre and write our own version of a quest story.
Autumn 2
Welcome back - the days might be colder and the evenings are darker but we are still shining brightly in Year 3.
Our BIG QUESTION for this half term is 'When did people start using Stone to their advantage?' and we will be answering this through our History topic on the Stone Age. We are well into reading Stig of the Dump and are really enjoying basing all our English work around this book. We finished our Volcanoes and Earthquakes topic with a brilliant day at the Natural History Museum. We have started looking at formal written methods for adding and subtracting in maths and are now starting to look at nutrition in science and DT - please check out our galleries of photos showing all the fun learning we have been doing.
Next week, we will begin our Advent topic in RE and this will kick start our exciting build up to Christmas!