Year 2
Autumn 2
As part of COP26, Year 2 visited the Greenford Post Office to investigate climate friendly materials being used by a company. We also considered ways in which we could be more climate friendly.
These were: recycling and using our valuable materials so that we do not waste paper, over use plastic which could be harmful to our planet.
We discovered that plastics damage the sea life as it does not break down, paper requires trees to be cut down and forests to be destroyed.
Remembrance Day
Tuesday 9th November, Year 2 performed our Remembrance Day Assembly to KS2. This was to promote our charity fundraiser for the British Legion. On Thursday the 11th we listened to the Last Post being sounded to begin our minute silence. The trumpeter then sounded the 'Rouse' to mark the end of the minutes silence.
Autumn 1
The 'Great Fire of 1666' History Workshop.
On Monday, Year 2 took part in a workshop about 'The Great Fire of London'. It was great fun to travel back in time and experience the story of how the fire happened and where it started.
The children role played trades folk from 1666 such as: blacksmith, candle maker, baker and a soap maker who all used fire in their businesses'. Any one of these trades could have been the cause of the inferno; as they all used fires in their wooden houses.
Children took the parts of the fire, wind and baker's family to understand how it was possible for the family to escape as the fire took hold.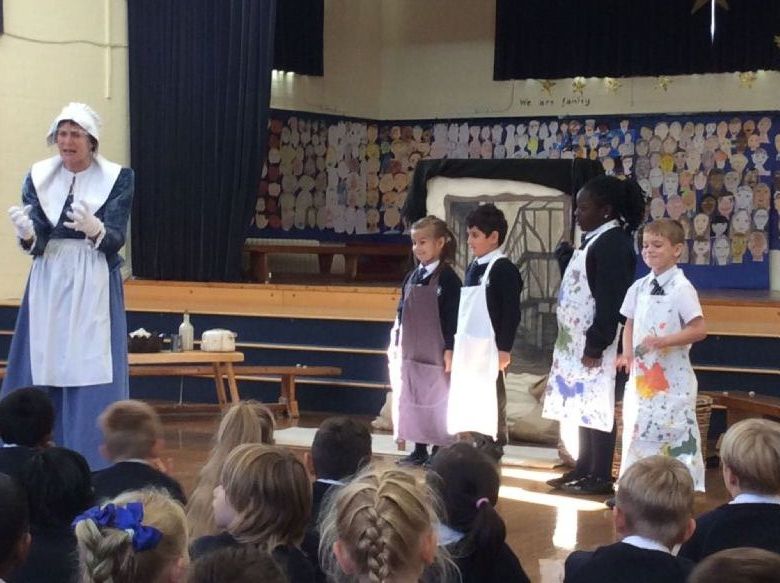 Welcome Year 2
We have had a brilliant start to Year 2 where we have been learning lots of new things.
We are looking at a very important question in our topic work on The Great Fire of London.
"Did the Great Fire help to improve London today?"
Our Class Novel 'Vlad and the Great Fire of London' has been informing the children all about what life was like for Londoners at the time in 1666. The children have been researching facts about the fire and where, when and how it started. The children will be writing diaries influenced by Samuel Pepy's writing.
In English, the children have learnt traditional rhymes and songs related to this topic. They have enjoyed themselves, and they are continuing to have a range of history experiences through this next half-term.
In maths, the children have been investigating place value and partitioning. They are deepening their maths understanding in these areas and making links by applying it to real life situations.
We are looking forward to creating our own London Cityscapes using a range of techniques taking inspiration from the work of artists; Ken Done and Claud Monet.
We will be uploading artwork by the children as it is completed, in the Gallery section.