Nursery
Friday 15th October 2021
We have had a lovely week in Nursery. The children really enjoyed sharing information about there families - who is in their family, whether they were big or small, which country they come from and what their home language is. During the week the children got to explore globes of the world and maps. Our focus book was 'My Family Your Family' by Lisa Bullard.
In Maths, we read 'Where's Spot?'. We tried to familiarise ourselves with the positional language in the book (in, on, under etc…) throughout the week.
Friday 8th October 2021
This week the children really enjoyed learning about birthday's and how they are special to us. The children learnt to plan for Rosie and Jim's Birthday by writing invitations, writing a shopping list for the items and food needed for a party, making birthday cards, counting candles for different number cakes and making birthday cakes on the play dough table and in the mud kitchen. They also learnt how birthdays are celebrated in different countries and how to say Happy Birthday in their home language. Our focus book this week to support the children's learning was 'Kipper's Birthday.

Also in Maths we read 'Brown Bear, Brown Bear'. The children loved joining in with the repeated refrains (BROWN BEAR, BROWN BEAR, WHAT DO YOU SEE?). We used the book as a starting point to explore colours and 1:1 correspondence (counting by placing a finger on each object).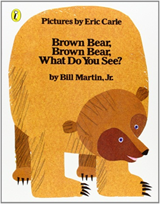 In RE, we are learning that we are all precious to God and that God knows us all by our names. We are trying to recognise our names independently and make the sign of the cross.

Next Week:
We will be reading 'My Family, Your family'
Friday 1st October 2021
All the children have now joined our Nursery and we have started walking into the building independently. Mrs Giordmaina, Mrs Mepham and Ms Mashuta are so proud of us all!
We are focusing on learning the rules and routines of our new setting and building relationships with staff and peers. We have been learning about how special we are and sharing lots of things about ourselves. We really enjoyed making self-portraits this week.

Reminders:
Please bring a spare change of clothes and leave at Nursery (trousers / socks / pants / shoes)
We expect children to use the toilets independently – practise flushing and washing hands.
Do not let your child bring toys/sweets to nursery
Label all your child's belongings clearly
Register online for free school milk at 'Cool Milk'.
Email consent for Class Dojo to the office- admin@olovrc.com