Catholic Life
Welcome to our "Catholic Life" page.
Our Lady of the Visitation Catholic community comprises the Parish and Catholic Primary School with strong links to the local Catholic High School. Together we celebrate significant times in the liturgical year with services such as; the Advent Service, Vincent Pallotti Mass, The Feast of St Patrick, The Marian Service and the Feast of St Peter and Paul. When pupils join our school they become part of this community. We have strengthened our links with the Parish through staff participation in the Sacraments of Holy Communion and Confirmation, support at the Christmas Bazaar and through the Good Friday 'Walk of Witness.'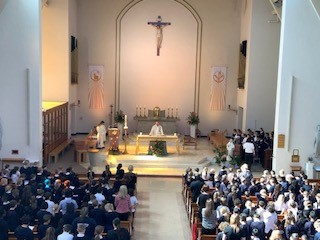 We celebrate Mass together.