6W
Summer term
Year 6 have been creating and designing their own Greek style pots made from clay. The children researched different styles of pot e.g. coil and thumb. They used their knowledge of Greek myths to help inspire their designs. Have a look at the pictures below and see if you can work out what each pot might be used for!
Spring Term
Visit to Kew
We were so lucky to pick a day of good weather after all the snow of last week - Kew was great fun to explore. We saw the oldest tree in the gardens and walk amongst the tree tops. It was also Kew's annual orchid festival which was a stunning sight.
World Book Day - Spot the Wally!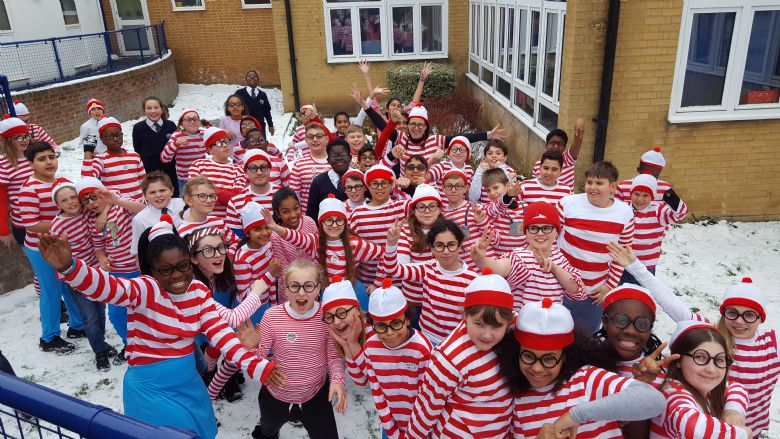 Spring 2 - Well done for the amazing Shang Dynasty projects completed over the half term break - these are on display in the classroom.
Spring 1 - This term has passed so quickly. We've completed so much already. Highlights include our class assembly on Evolution with guest appearances from Mary Anning and Charles Darwin. We also has a visit from PC Carolyn McGuigan who told us about phone safety and the role of the police - we got to try on uniform and handcuff each other!
Autumn 2
Christmas electrical circuit
In the build up to Christmas, we designed and made a festive light decoration that used electrical circuits. Our design was developed with a specific celebration and audience in mind and had to use a minimum of five bulbs, one motor and one switch. All designs contained a moving part as well as an additional material to conduct electricity.
School Trip
The whole of Year 6 made a visit to the RAF Museum in Hendon a couple of weeks ago to support the learning of their current history topic; World War II.
The children were part of a role play that was set in 1940 which they thoroughly enjoyed. They were shown a wartime classroom where they made boxes to house gas masks and each one of them were issued with an identity cards.
The children had the opportunity to take part in a handwriting lesson using the school pens of the day. There was also a maths lesson dealing with ' old English money'.
The trip was a great success and the children returned to school full of new knowledge about the war and the role the RAF played within it.
Osmington Bay
Our Year 6 children and staff spent a wonderful five days at Osmington Bay PGL Activity Centre. During their stay they took part in many exciting challenges. The children had the opportunity to experience a wide range of sporting activities such as archery, rifle shooting, abseiling and the zip wire.
This was an opportunity for the children to participate in activities that promoted team work and helped to build confidence away from home. Staff and children thoroughly enjoyed working together in a different environment and allowed children to form positive bonds with their new teachers and peers.
A very rewarding and tiring week for everyone!
For pictures of our trip, please follow the link:
http://www.visitation.ealing.sch.uk/page/?title=Osmington+Bay+2017&pid=71
Autumn 1
Welcome back everyone to year 6 - we've got so many things to look forward to this term!
We will all be learning so much - we have a great topic to start the year all about WW2 and will be visiting RAF Hendon in November. We also have a workshop booked for you all in September where you will learn new coding skills provided by a team from Heathrow airport.
So many of you signed up for cycle training and the first group will start on 15th September - don't worry if you didn't get picked this round, everyone will get the opportunity.
For those going to Osmington Bay, we are busy making preparations for your trip and I think we might be as excited as you are!
This term is going to be GREAT x