5O
Welcome to 5O !
Autumn 1
Well, it's the beginning of a new academic year and what a year we have ahead.
I'm very much looking forward to getting know my new 5O class and hope they are as excited for the upcoming term as I am.
As our first half term comes to a close, it has seen the class settle into daily life in 5O.
We have started our music lessons on African Drumming; this has seen the children learning new notes such as base, tone and flam in preparation for an end of term production.
We have been very lucky to travel as a year group to Willesden Sports Centre on 1st October to take part in a triathlon, held by the Olympic medal winners the Brownlee brothers. This allowed the children the opportunity to swim, cycle (or scooter) and run around a course with one of the brothers presenting them a medal at the finishing line.
This was followed by a Poetry workshop on 4th October and the class enjoyed a freestyle rap from an award winning artist. The children were then given an opportunity to create their own rap as a class.
In English we have been reading the story 'The Hobbit' and the children have been given the chance to adapt the story in their own way. This fantasy unit of work has allowed the class to be as imaginative as they can whilst adding characters and describing settings using the language of JRR Tolkien.
Place value and the value each digit in a decimal number hold have been our main focus in Maths. There will be more to come from this topic.
In Religious Education we have been looking at 'Ourselves' with the understanding of what it takes to be a peacemaker and some examples in the world. We are now starting to look at 'Belonging' and understanding that there are a variety of places in which we can belong.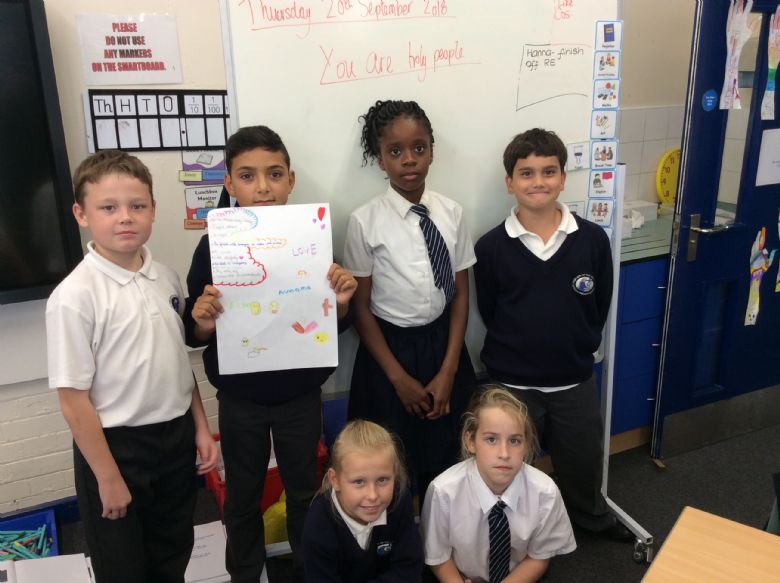 Our Topic lessons have taken us to the royal palaces which have been built in England. The main focus of our work has been about Hampton Court Palace and the features which it holds. We have also been looking at how the buildings have changed over the periods of different Kings and Queens of England.
We are looking forward to the upcoming year and everything that it holds!
Autumn 2
As 2018 draws to a close it means there are a lot of events rapidly approaching. The class are currently preparing for the Christmas Advent Liturgy, Junior Christmas Carol Concert and our first African Drumming Concert!
We have had the chance to visit the Science Museum as part of our 'What's Out There?' topic in Science. The class were in awe throughout the trip, particularly during the IMAX film of how the Hubble telescope was fixed. This trip allowed the children to broaden their understanding of Space with this knowledge being introduced into their Non-chronological report writing in English.
During this trip we also had the chance to use our Maths skills in a real life situation with the class having to think of how much money they had and how much an item was. In class, we have continued with our focus of place value and using all four operations to complete a calculation. As a result of this their confidence in solving questions related to place value and the four operations has grown.
As Christmas is rapidly approaching, we have begun the topic of Hope in RE. This topic prepares us for the birth of Jesus. With this in mind, the class and I wish you a Happy Christmas.
Spring 1
Welcome back and Happy New Year!
The class have come back from the Christmas break eager and ready to learn.
We have begun some new topics which have generated a lot of discussion. Our new topics for this half term include: Modern Fiction in English, based on the Anthony Horowitz story, Stormbreaker; fractions, decimals and percentages in Maths; Jesus's Mission in Re and Materials and Their Properties in Science.