4W
Summer
We have thoroughly enjoyed this Summer term so far. We had an amazing trip to London Zoo for our new topic on the endangered world.
Maths
This term we have been recapping our learning so far this year and applying our knowledge to different mathematical concepts. This includes the four written methods, rounding, fractions and telling the time.
English
Last half term, our class explored deforestation through our text 'The great Kapok Tree'. One of our favourite pieces of writing we did, was a letter to an axe-man persuading him to stop cutting down the trees. This half term we have begun our new text 'Rama and Sita'. We have begun by looking at narrative and creating very vivid setting descriptions.
Science:
This term the children learnt about the human digestive system and the functions of each part involved. They also had the opportunity to explore the different types of teeth and their functions. Linking to our rainforest topic, the children looked at food chains within this habitat.
We are looking forward to theme week. Year 4 will be studying Ghana!
SPRING 1
R.E
This term our topic was all about 'Our Community'. To begin, we discussed the apostles and how they were the first Christian community. We learnt about how we are all followers of Jesus, like the apostles and we discussed the qualities we might have in common with them. After this, we explored our own local parish community 'Our Lady of the Visitation'. We wrote prayers to Mary asking for her help and protection in or parish.
English
This term we started our new class book 'The Viking at school' by Jeremy Strong. We are enjoying reading, discussing and making predictions about what we think is going to happen next. At the start of the term we discovered our classroom destroyed by Sigurd the Viking. We have come to realise what a clumsy barbarian he is.
Maths
This half term we began learning multiplication and division. We learnt how to use the written method to solve calculations. More recently, we thoroughly enjoyed geometry this term, where we got the chance to plot co-ordinates, translate shapes and look at lines of symmetry.
Topic
In topic we have continued our Viking theme. This has been great fun as we have had the opportunity to create Viking long ships, and compare Anglo-Saxon warriors to the Vikings. We found out some interesting facts through research. Were the Vikings vicious? Ask any member of year 4 Viking expert team to find out!

AUTUMN 2
Maths
In Maths this half term we have looked at fractions, addition and subtraction. The children have worked extremely hard on these topics and have shown great commitment and willingness to challenge themselves. They have worked both collaboratively and independently with much success.
English
We have continued with our class book 'The Iron man'. The first focus was newspaper reports and the children are now in the process of creating their very own diary entries from the perspective of the Iron man. They look forward to sharing these with the other Year 4 class!
Topic
Were the Anglo-Saxons smashing? Yes! Year 4 have thoroughly enjoyed finding out about the Anglo-Saxons. We have learnt about Anglo-Saxon invasion and settlements, artefacts, religion and even debated law and punishment. It was clear the Anglo-Saxon justice system was popular amongst our Year 4 warriors!
PSHE
In PSHE this half term, we have covered many different topics, including E-Safety and Bullying, Within our Anti-Bullying lessons we took part in different activities and discussed scenarios children might go through and how they might cope. We discussed what we believe a bully, bystander and victim is and the vocabulary that comes to our heads when we think about them: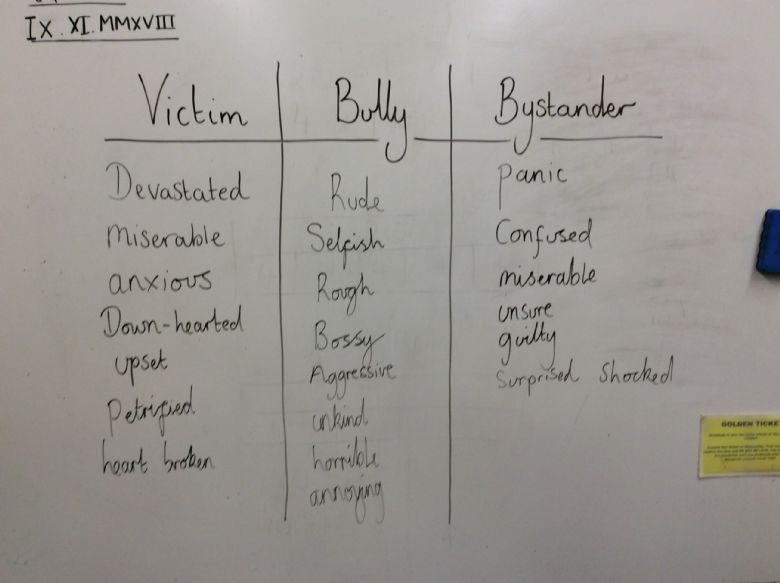 Autumn 1
Hello and welcome to Year 4! We hope you all had a lovely Summer.
We are very excited to begin our new term and look forward to all the wonderful learning that we will be doing. We are lucky to begin swimming lessons this year and learn how to play the recorder. Later on in term we will have the opportunity to take part in a workshop which will give us a chance to extend our learning on Vikings .
Maths
In maths we have been very busy learning all about number and place value. So far, our growing minds have been soaking up lots of information all about sequencing, ordering, comparing, 1000, 100 and 10's. More recently we have been having fun with Roman numerals and negative numbers. Challenge us at home! We would love to impress you with our knowledge. Coming up, we are looking forward to sinking our teeth into fractions.
English
This term we started our new class book 'The Iron man'. We have enjoyed reading the story, discussing it and making predictions about what we think is going to happen next. At the start of the term we wrote our very own poem based on the story using features like similes, metaphors and personification in our writing. We enjoyed writing our alternative reolution to the story and look forward to continuing with the story.
R.E:
Our current R.E topic is 'People'. We have been learning about different ancestors of Jesus and the qualities these people have. We have learnt about Ruth and how she was a loyal and loving person towards Naomi. We have also learnt about Abraham and the trust that he put in God. An interesting part to this topic has been our discussions on how we can be trustworthy and loyal people in our lives.